Three Upcoming Events this Week! Urgent Action Tomorrow.
We have felt a real uptick of activity and energy in the union this past month. Thank you to everyone who came to our public meeting this past Tuesday at the New West Library.
Not only was it a great turnout, but everyone really contributed their experiences and ideas into our campaigns.  Before our next public meeting (Tuesday August 29th) we will organize a Day of Action in Moody Park to take action on ending no fault evictions and ensuring tenant access to life-saving air conditioning units. So stay tuned for the details coming soon!  
For now we have three rather urgent events we hope you can participate in.  
Tomorrow, Saturday July 29th at 11am there will be a protest and eviction defence at 325 Ward St.  We will join ACORN organizers to demand local landlord Harron Investments halt illegal evictions of long-term tenants! Ron Sangha, owner of Harron Investments has been systematically evicting multiple long-term tenants who refuse to agree to so-called "voluntary" rent increases.  It's a tactic that we have heard from other tenants in his buildings too.
Saturday July 29th at 11am. Mandalay Terrace at 325 Ward St, New Westminster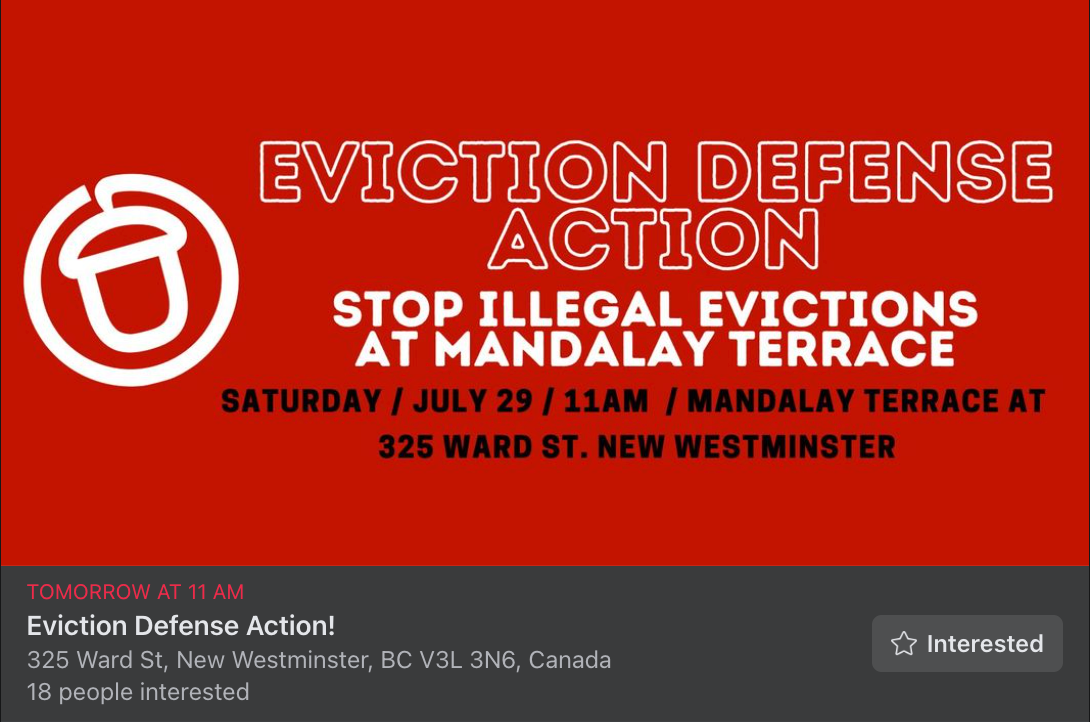 On Wednesday August 2nd 2023 at 6:30pm the city of New Westminster has arranged a special forum for our members to gather input on the City's spending priorities and budget for 2024.  If you are interested, you can reply to this email to give us an idea of how many people would like to attend.

Link to the Zoom meeting: https://ca01web.zoom.us/j/61181595537?pwd=TVo0MS92UHdFSHQ5L1Q3azNiMjhEZz09
Finally on Thursday August 3rd at 6:30pm at the Anvil Centre, we will be joining the discussion hosted by ACORN to talk about ending no-fault evictions.  We know so many renters are being affected by bad faith use of family member and caretaker evictions to displace tenants and raise the rents.  Join us there to share your stories and contribute to pressuring the provincial government to end these legal loopholes that lead to displacement.
Thursday Aug 3rd at 6:30pm. Room 413 Anvil Centre. 777 Columbia St